FSU baseball Q with Link Jarrett: Reflecting on 2023, building blocks
---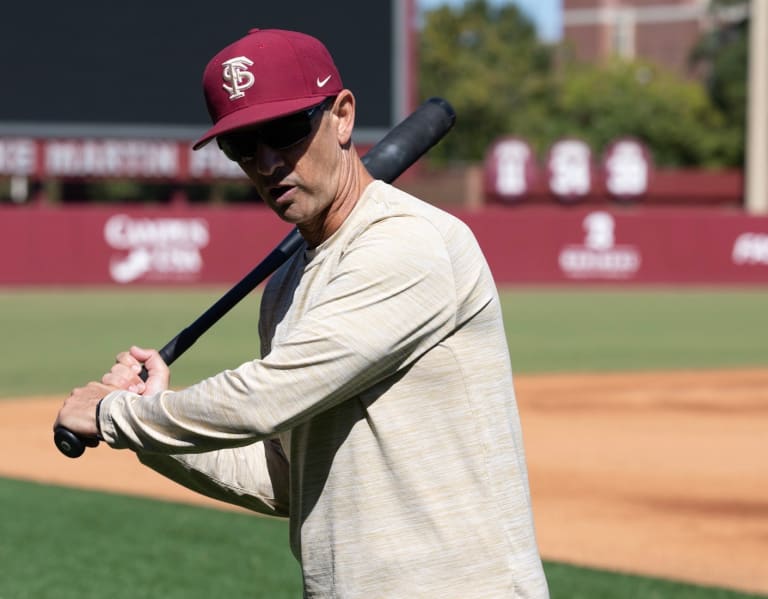 Suffice it to say, the 2023 Florida State baseball season didn't go the way anyone expected.
In Link Jarrett's first year as head coach at his alma mater, the Seminoles missed the NCAA Tournament for the first time since 1977, snapping a record-tying streak of 44 consecutive appearances, and suffered the first losing season in program history.
Just over a week since the season ended and a few days after the transfer portal opened to all players, the Osceola caught up with Jarrett on Wednesday morning. This is Part 1 of the transcript from that talk, reflecting back on the 2023 season.
A little over a week removed from the end of the season, I'm sure things have been busy and I don't know how much time you have had to reflect, but when you have, what is your biggest takeaway from the 2023 season?
Jarrett: You look at the younger guys. The group was very young and the experience that they got on what I think was probably the most difficult schedule. I'm the ACC rep for the regional calls and we've bounced between No. 1 and No. 2 (in strength of schedule). To throw these guys into that and watch them learn and grow through what was clearly very difficult, that was the most positive part of it. When we had Wyatt (Crowell) and (Conner) Whittaker, whatever roles we wanted them in, we started them in relief, I think that gave us a chance to navigate the pitching that was clearly so thin. But you just reflect on where this goes now with what you saw out of the young guys. You've got (James) Tibbs, (Jaime) Ferrer, Cam (Smith) and DeAmez (Ross), we just have to keep that guy healthy. And you've got Whittaker and can you get (Jackson) Baumeister back through the draft and Ben Barrett and Jamie Arnold and do you get (Doug) Kirkland back through the draft? That's the nuts and bolts of the pitching staff. (Brennen) Oxford got a little bit better. Do you get him back through the draft? You reflect on the growth of the young guys, the ups and downs of the season. Clearly no margin of error whatsoever with what we had and Wyatt's loss, when that happened I remember I was standing in right field when he was trying to throw up a bullpen after he felt the little twinge he had. When I walked out of that corner with him that day, I knew that we had our work cut out. And then you look at the schedule and where we had to go on the road and what our midweek games were like, we knew this was going to be quite the challenge.
You led me right into what was going to be my next question. You may not have ever said it as many words, but I think you made it clear that losing Wyatt was going to be something very difficult to overcome with the state of the pitching staff. Do you agree with the sentiment that the season was kind of lost in that tough stretch of games right after he went down with his injury?
Jarrett: That moment was without a doubt the most critical part of it. Absorbing that one, dynamic individual is a lot to overcome with the group and the roster situation we had on the mound. So then you add in, I think some of the places we had to go play, we had a tricky little draw with the scheduling template. Those were some very, very talented, veteran-laden, well-put-together teams that were tough to play on the road. We were a little bit handcuffed going in, you're trying to figure out what to do with the rotation and can some of these young guys out of the bullpen maintain some of these leads that we had. Clearly, it was very challenging. Now we turn to the recruiting and the transfer capabilities and some of the junior college guys that we have to make sure we stabilize the athleticism of the roster on the field and then clearly the depth and the horsepower on the mound.
You brought a change in hitting approach with you to FSU from what had been the historic program standard in wanting your hitters to be aggressive early in counts if they were getting hittable pitches. What do you think the disconnect was where it seemed like the lineup was doing that well at times and struggled with it at other times?
Jarrett: Yeah, I thought we had moments where it was OK. I felt like we had a group at the top of the lineup. Did I ever envision leading off Tibbs and Ferrer? 100% absolutely not. Colton Vincent trying to bat left-handed and Nander (De Sedas) trying to bat left-handed, if we hadn't had two make a run at the switch hitting, we would have had one left-handed bat in the lineup. It wasn't consistent. There were some moments where it was OK. Clearly, I hope we can get a little more athletic where the base stealing and the bunting stuff is more of a weapon. It really wasn't a weapon and our ratio of success with some of that obviously wasn't very good. But Tibbs, Ferrer, Cam, DeAmez when the poor guy was actually 100%. I don't know if he was 100% to be honest with you for more than the first eight games of the year. That group was fairly stable for the most part. But then the rest of the lineup, there were some drastic swings in the management of the at-bat and the productivity in the bottom half of the lineup. Some of the guys that maybe should have been in the middle third of the lineup that were thrust up to the top, that changes things a little bit, too.
Obviously this wasn't the season anyone envisioned, but one thing you can say about your team is through everything, they never quit. What does it say about this team that they kept fighting through it all, winning eight of their final 11 games even when they had nothing of substance to play for?
Jarrett: You appreciate the guys' willingness to fight through it and play with some energy and execute when it clearly wasn't going the way anybody wanted it to go. You have an obligation when you walk onto the field to play the game and practice hard and work hard and improve and we saw them do it so it was nice to put it down on what was a positive note. It's still a stretch to feel good about the end of the season because of when it ended, but to see some of these younger guys grow and evolve and apply some of the things that you're trying to work on and they're trying to master, to see it in those competitive settings was nice. To see Baumeister, I think all in all, his starts got a little bit better as we went. I think Doug Kirkland grasped what he was trying to do out there and Andrew Armstrong if you look at what he had done previously and what he was able to do for us this season with 30-plus appearances, that was positive in what was a difficult four months.
You have talked about James and Cam and how they were both anchors in the FSU lineup this past season. How important was it that they both fairly quickly announced that they will be returning next year? What areas do they think they can grow in this offseason?
Jarrett: Those are dynamic guys. Cam is a special individual and so is Tibbs. Very different players. Cam moving over to third base is tricky. We saw flashes of, 'Wow, this guy looks like a Major League third baseman,' and we saw moments where there's a freshman that's out there that hasn't played the position before. The at-bats and what he had to deal with some of the arms that we faced and some of the secondary pitches that he had to handle probably for the first time ever in his career and with the frequency in which he was pitched in a very challenging way. I wish we could have left-handed bats kind of straddling him where it made pitching him a little bit more difficult, but we didn't. He's going to be a star. Tibbs' management of the at-bat was exceptional. The power, the combination of walks, the extra-base hit, the home run, the ability to use the field, very advanced. He was hurt, he didn't get to play last summer and he wasn't with us all fall because of his shoulder injury that he had repaired. His season in the Cape (Cod League) this summer I think will even catapult him more, swinging the wood bat, getting another 100 or so at-bats. Same with Ferrer. Jaime's got to become a little bit more disciplined pitch-selection-wise and kind of maintain that approach because he goes up there and he's swinging and he's dangerous. I think the wood bat will make him manage a little bit more because the wood bat sweet spot is probably two, two and a half inches where the aluminum bat sweet spot is far bigger so you get away with a little bit more with the aluminum bat. Those guys going to swing the word this summer against that level of competition will be huge. And when they come back, they're gonna be a year more physical, a year more advanced, a year more mature. Much better understanding positionally of they're doing. Summer is such a critical part for these guys just to learn and grow. I think it hurt last summer that more of them didn't go out and play.
How impressed were you with how far James seemed to come as a defender at first base? That's not a position he was expected to play when he got here and he didn't get to practice there much before the season began because of his injury.
Jarrett: He didn't step on the field to the preseason, really, and work at it. There were times where how much do you want him scooping and dealing at things with the glove when he's still rehabbing through the shoulder. But he's very athletic and he's left-handed so you check those two boxes and good first baseman are those two things. You can have good right-handed first basemen also, but it's nice to have a lefty over there. I think he got more comfortable with the groundballs and the bag work and the decision-making on when to go after that ball or when that ball is not hit real hard, you kind of revert back to the base and let the second baseman handle that ball. He was figuring it out and again this summer, he'll play some first base, he'll probably also go out to the outfield. He can run around out there. He's clearly skilled enough to do that. And then you start looking to next year's roster and the personnel and wherever we land when the transfer cycle is done and when the draft wraps up, Tibbs is capable of going to multiple positions. His ability to figure first base out definitely helped and I think it solidified some things with the infield too. Once he became more comfortable over there, that helped clean things up for everybody else.
Another guy who quickly announced he was returning to FSU was Conner Whittaker. After a bit of an adjustment to the weekend rotation, it seemed like he really hit his stride down the stretch of the season. How does he stabilize things a bit in the rotation entering 2024?
Jarrett: Whit, he gives you everything he's got and you have three pitches in play. I think there was a period of time where just the workload of starting, that ball started to creep up in the zone on him a little bit and he and (FSU pitching coach) Chuck (Ristano) worked really hard there. There was a two-week period where the entire emphasis of what he was working on was simply to pound that thing back down in the zone where the change-up and the slider would play much better off the fastball down in the bottom of the zone. His east-to-west navigation of it seemed to be OK. It was just pounding that thing down and he got it back. You know you're gonna get an honest, true competitive effort out of him, whether it's starting or in relief. Sometimes learning what that feels like and how to handle your work in between starts, there's only one way to do it and that's growth and learning and experience. Chuck did a nice job helping all those guys up their game a little bit.
The second half of our conversation with Jarrett, pivoting to the future, the MLB Draft, the transfer portal, the 2024 class and more will be posted on Thursday.
Follow The Osceola on Facebook
Follow The Osceola on Twitter
Subscribe to the Osceola's YouTube channel
Subscribe to the Osceola's podcasts on Apple
Subscribe to the Osceola's podcasts on Spotify
Source: Yahoo Sports