Who hit the most irrelevant home run of the 2022 MLB season?
---
Home runs are down.
Not from a popularity standpoint, no. Those joints still rule. But from a volume standpoint, home runs dipped in 2022 like Enron stock. There were 5,215 big flies last season, 729 less than a year before, or, the second-largest season-to-season drop-off in MLB history.
But 5,215 is still a big number, more home runs than you or I or any of our friends have ever witnessed in person. Many of those big flies were notable. Some for their jaw-dropping distance. Others because they altered the trajectory of games, seasons, careers. But not all home runs can live forever in our memories. Some must melt away like chalk in the rain.
That home run you saw in person that day, was that Kyle Farmer's 11th or 12th of the year? Who can say? There are too many real problems piled up in our brains to recall every single over-the-fence ball we saw in 2022, but only one can be crowned The Most Irrelevant Homer of The Year — an award sought by none and cherished by few.
Let us begin this pointless quest.
Step 1: Low Impact on the Game (5,215 –> 453)
Stop trying to change the game! It's fine as it is. Our crowning home run cannot be a walk-off, a tie-breaker, a lead-changer, or anything of the sort. It should have a miniscule impact on the game's eventual outcome.
Thankfully, there's a statistic for that. Win Probability Added (WPA) calculates the percent change in outcome a particular play has in a given game. The higher the WPA, the more influential the play, the lower, the more irrelevant. The highest WPA moment in 2022 was this walk-off, two-out, three-run tater from Jorge Alfaro.
That's one hair-raising, goosebumps-inducing, highlight-rewinding home run. We want to get as far away from this type of excitement as possible.
In 2022, 454 home runs had a WPA under .01 (a less than 1% influence over the eventual result of the game). These are the naptime taters, the forgettable four-baggers. I see no better place to start.
Step 2: Away Teams Only (453 –> 228)
In the eyes of an impressionable child, all home runs are awe-inspiring. These kids can't even do their own taxes yet, or dice an onion, so you can imagine how a dinger would blow their minds into smithereens. Most children at baseball games are fans of the home team and even the most garbage-time home run could push an innocent young buck towards becoming the next Mike Trout.
Take this ninth-inning Tyler O'Neill solo shot against the Braves. Sure, the Cardinals were down 10 at the time and had essentially zero chance to come back and win. But the fireworks still went off, the crowd still cheered, a kid or two still had their days made.
Home-team home runs are off the board.
Step 3: No award winners or vote recipients (228 –> 183)
You want to look Aaron Judge in the eye and call him irrelevant? I don't. Anybody who received an MVP vote is too important to have the least important home run.
Step 4: No free agents (183 –> 100)
When it comes to the negotiating table, all home runs, both clobbered and allowed, make a difference. Maybe if Carlos Correa doesn't hit this home run he ends up on the Giants, or something.
Step 5: No position players pitching (100 –> 81)
Hahahahaha. Does that look irrelevant to you?
Step 6: No arbitration-eligible players (81 –> 41)
Just like with free agents, every last stat plays a role in determining contracts for arbitration-eligible players. Final dollar figures are based directly off of past performance, and we don't want to take a penny out of anyone's pocket.
Step 7: No first two months of the year (41 –> 29)
Spring is a time for dreams. Even the most rudderless team has a glimmer of hope during April and May. No club is truly out of it until Memorial Day. To diminish that heroic sense of belief would be scientific malpractice. Even this Charlie Blackmon shot from April has a tinge of promise to it … if you look hard enough.
Step 8: No playoff teams (29 –> 11)
Any home run can squash or inspire a magical vibe. Maybe this random Garrett Stubbs dinger from August was the spark for the Phillies' World Series run. Better safe than sorry.
The Top 11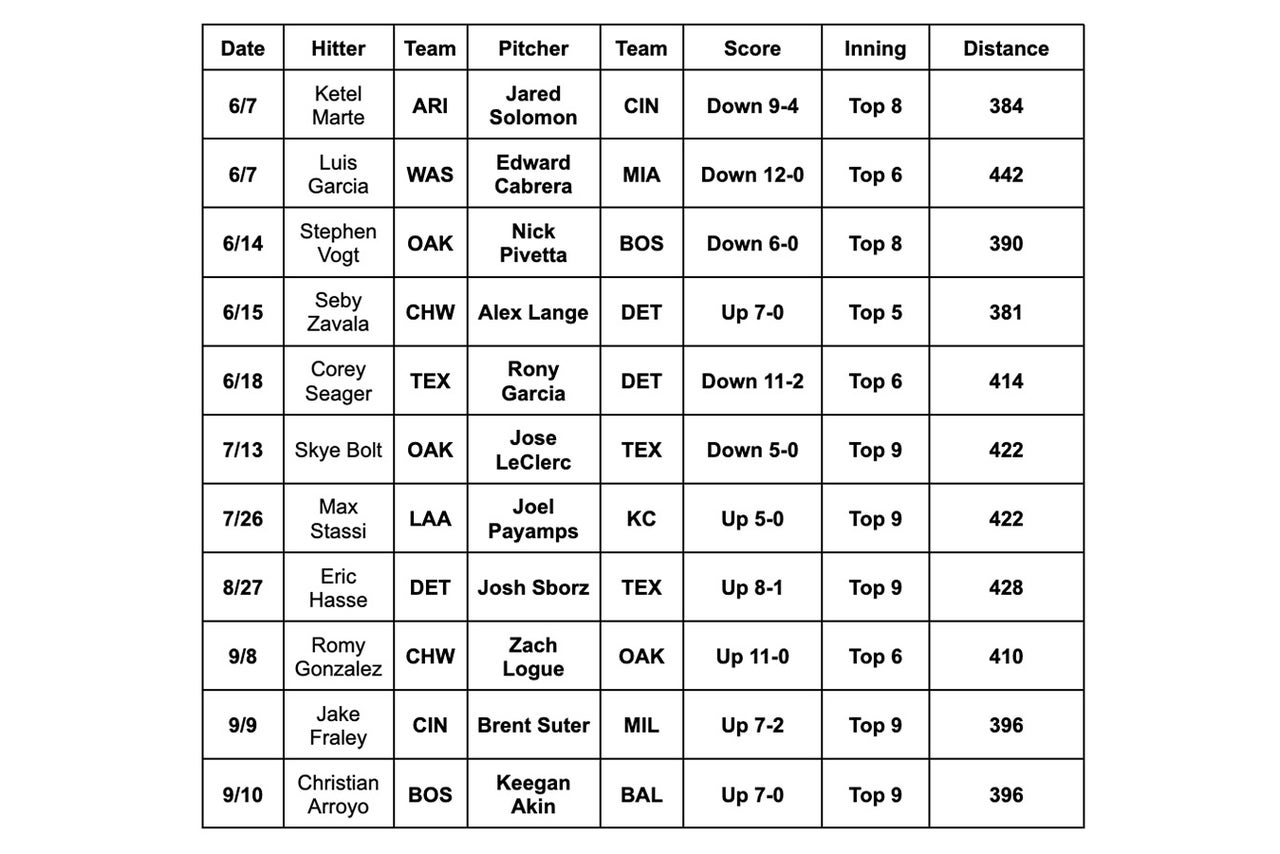 Time to start crossing them off one at a time.
11. Stephen Vogt: Last year was Stephen Vogt's final season. A last hurrah for an MLB cult hero. Not irrelevant.
10. Luis Garcia: This was 113 mph off the bat. An absolute laser beam.
9. Jake Fraley: Left-on-left homers are always impressive. Also, the Brewers were only 3.5 games out of the wild card at this point and Fraley's homer was yet another straw breaking the camel's back.
8. Eric Haase: Looks further than the measured distance? Second deck? Not irrelevant enough.
7. Corey Seager: Seager is too good for this list.
6. Romy González: A homer that pushes the score from 11-0 to 14-0 takes the game from regular blowout to memorable blowout, from landslide to laughable pulverization. This homer makes you laugh.
5. Christian Arroyo: A really, really strong contender, except for one obvious thing: Arroyo hit this one over Wall-timore. The new left field dimensions at Camden Yards befuddled hitters all season long. Anybody who conquered it deserves their flowers.
4. Seby Zavala: This was Chicago's back-up catcher's first homer of the season. I'm shocked he didn't ask for the ball.
3. Ketel Marte: Hundreds of meekly hit homers have found bleachers in Cincinnati's hitter-friendly yard over the years. This Marte blast is a prototypical scoop, launch and watch. What makes this clip stand out, however, is Cincinnati's 6-foot-5 rightfielder Aristidies Aquino. As the ball drifts toward the fence, Aquino drifts too and for a brief moment you think you're about to watch a truly stupendous home run robbery.
2. Skye Bolt: This homer has all the makings of an irrelevant home run champion. A solo shot in the top of the ninth between two mediocre teams out of the postseason race and involving two players who will likely never make an All-Star team. Alas, the guy who hit the home run is named Skye Bolt, and thus, it cannot be our winner.
1. Max Stassi: In the top of the third inning on July 26th, Shohei Ohtani hit a solo home run off Royals pitcher Angel Zerpa, his 21st of the season. The crowd at Kauffman Stadium was larger than a typical Tuesday, the 20,834 in attendance to see the game's most awe-inspiring talent. And with that long ball in his second at-bat, Ohtani delivered.
A few hours later, in the top of the ninth, with the Angels up five and the majority of the home crowd long gone, Anaheim's catcher, Stassi, dispatched a Joel Payamps cement-mixer slider over the left-center field fence. It was deep enough to dispel any doubt, but shallow enough to not reach Kaufman's iconic fountains.
I have nothing bad to say about Stassi. I have nothing bad to say about Payamps. I wish them both the best in their future endeavors and I hope they live happy and fulfilling lives. But this home run is a worthy winner. I have little left to say.
So, while there is no spotlight brighter in today's game than the one perpetually shining down upon Ohtani, there is obscurity in the immediate shadow. There is irrelevance hidden just below the surface. Congrats, Max. Congrats.
See you all next year.
Jake Mintz, the louder half of @CespedesBBQ is a baseball writer for FOX Sports. He's an Orioles fan living in New York City, and thus, he leads a lonely existence most Octobers. If he's not watching baseball, he's almost certainly riding his bike. Follow him on Twitter at @Jake_Mintz.
Top stories from FOX Sports:
FOLLOW
Follow your favorites to personalize your FOX Sports experience
---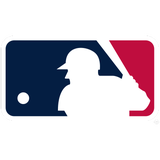 Get more from Major League Baseball Follow your favorites to get information about games, news and more
---
---
Source: FOX Sports