Drivers next in line to snap winless streaks following Ryan Blaney's victory
---
Ryan Blaney had reason to enthusiastically celebrate Monday at Charlotte Motor Speedway, and it wasn't just because he had won a NASCAR Cup Series major event.
It was that he had won for the first time in 60 points races. Snapping a 59-race winless drought (his 2022 all-star win isn't included when considering points-race wins) certainly was a cause for relief.
Blaney had come close in several races, with 18 top-5 finishes in those 59 races. Those 18 top-5 finishes didn't necessarily breed total confidence.
"It's easy to get down on yourself when you don't win," Blaney said. "You've got to think to yourself, 'Can I still do it? Can I still compete at a winning level?' So it's easy to kind of doubt yourself."
Looking for more NASCAR content? Sign up for the FOX Sports NASCAR Newsletter with Bob Pockrass!
The victory gave Blaney a much-needed boost of confidence.
"I'm not the most self-confident person out there to begin with," he said. "So when I do get in doubt of your abilities to do something, it's really hard to pull yourself out of it, at least for me personally just because I don't have that self-confidence that some guys have.
"It takes me a little bit more convincing."
There are eight full-time Cup drivers who have won races but are riding a winless streak of at least 36 starts without a win (the Cup regular season is 36 races). And some of them might surprise fans: Alex Bowman (39 races), Ross Chastain (40), Chase Briscoe (46), Austin Cindric (49), Aric Almirola (64), Brad Keselowski (76), Justin Haley (83) and Michael McDowell (85).
Who are the ones most likely to snap their streak next?
The first would be Chastain. He leads the Cup Series standings and has vied for wins several times. But his last victory was the spring race at Talladega in 2022.
Chastain has led 347 laps this season and has five top-5 finishes while a victory has remained elusive for his Trackhouse Racing team, led by crew chief Phil Surgen.
"We keep getting better," Chastain said in early May. "We've seen that at several tracks. We haven't won like we did last year, but we continue to evolve. I feel the speed that we're bringing.
"Don't bet against Phil and the boys."
As the points leader, Chastain can see that he is consistently finishing well even if the win hasn't come.
"We're running really similar than we were last year," Chastain said. "But we're finishing a little bit better, which was a major focus for us. … We're outperforming where we're running."
"I'm comfortable with making other drivers uncomfortable"
Ross Chastain talks about his recent on-track incidents and if he will change his style of racing.
Next on the list of drivers who should find victory lane soon is Bowman, who might lead the standings if not missing three points races with a broken back and also having a 60-point penalty for having a modified body panel by the windshield.
"We just have to do what we were doing [before the injury]," said Bowman, who returned to the driver's seat last week. "We had the best average finish out of anybody at the time I got hurt. … Obviously we want to go win races, and I think that comes with how we were performing."
Bowman does need to find a little bit of rhythm now that he is back after his absence for the broken back. He had three consecutive finishes outside the top 10 before the injury.
"There's no reason that with our race team and our capabilities that we can't win from anywhere we start every week," Bowman said.
Keselowski is the only former Cup champion on this list, and he has to have been frustrated over the last two-plus years. He is 0-for-50 since joining Roush Fenway Racing as a driver and co-owner at the start of 2022.
But Keselowski has been running better recently and sits ninth in the Cup standings. Last year, he finished 24th in the standings.
Keselowski has led 115 laps this year but 91 of those have come on the superspeedways. He has three top-10 finishes in his last five.
"We've had a couple shots and they have kind of slipped through our fingers," Keselowski said. "We had a shot at Daytona, had a shot at Atlanta and probably had a good shot at Richmond, and for various reasons it didn't come together and you kind of go, 'Aw, shucks.'
"But we need to capitalize on those races and get the wins."
Cindric hasn't won since his 2022 Daytona 500 triumph as a rookie. He has had an inconsistent sophomore season — he has two top-10s this year and a frustrating best finish of 19th in the past eight races. He sits 20th in the standings and has led just seven laps all year.
Right behind Cindric is McDowell, the 2021 Daytona 500 winner. He has one top-10 this year and while he has shown improved performance on the standard ovals, his best chances remain on the road courses and superspeedways.
Almirola hasn't won since New Hampshire in 2021 and has just one top-10 finish this year. He has led laps in just three races this season and while has shown glimpses of speed, he needs consistency.
Haley won the 2019 Daytona summer race on pit strategy when the race was shortened because of rain. A win's a win. He does have three top-10s this year and his best chance would come on the superspeedways.
"He's got more good things to come"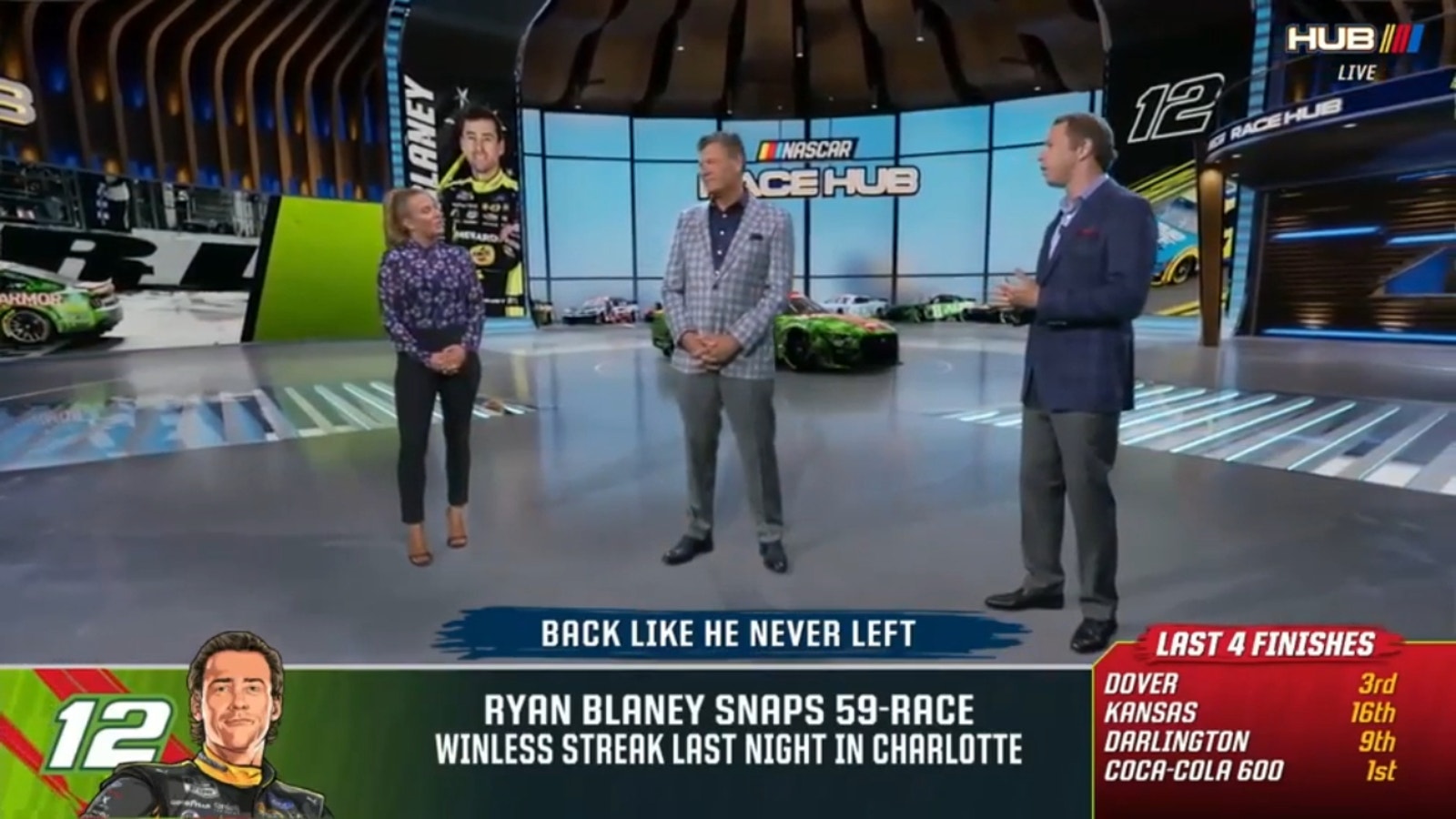 The NASCAR Race Hub discusses Ryan Blaney's big win and what to expect from him the remainder of the season.
For all the drivers who are on these streaks, Blaney's M.O. might be something to follow.
"I tried not to think about that very much," Blaney said. "We try to win every week, and it's hard to do. It's hard to win these races."
What To Watch For
Many eyes will be on Corey LaJoie as he substitutes for Chase Elliott, who was suspended for one race for intentionally hooking Denny Hamlin, resulting in a hard crash Monday at Charlotte Motor Speedway.
LaJoie only got in 72 laps last year at World Wide Technology Raceway (commonly known as Gateway) as his engine expired. So there is little to know about how well he could run on the 1.25-mile track, which is playing host to a Cup race for just the second time. The key for LaJoie, who typically drives for Spire Motorsports, is not to try to be a hero but simply try to get the most out of his equipment.
It will also be interesting to see how Denny Hamlin and Ross Chastain perform as this was the site of the race where their feud started.
That was a race won by Joey Logano. The 2022 Cup champion has struggled in recent weeks. If he's going to turn things around, Gateway might just be the place.
Thinking Out Loud
NASCAR did the right thing in issuing a severe penalty to Chase Briscoe for a counterfeit engine duct found on his car following the race at Charlotte.
It is one thing to alter a piece in a unique way, but to manufacture an illegal piece — and try to make it look like the piece that the team must run that is supplied from a specific third party — goes beyond trying to find the gray area in a rule book.
So the 120 points, 25 playoff points, $250,000 fine and a six-week suspension to crew chief John Klausmeier was justified. The fact that Stewart-Haas Racing isn't appealing the penalty is telling. SHR chief competition officer Greg Zipadelli, in a statement that the team wouldn't appeal the penalty, said it was a quality-control issue and the piece should never have been on the car.
Maybe there is a plausible explanation of how that happened, but NASCAR must rule with an iron fist in these circumstances. And this isn't SHR's first experience with this type of infraction. SHR was found to have done a similar thing to what was supposed to be a single-source supplied spoiler in 2018.
Weekly Power Rankings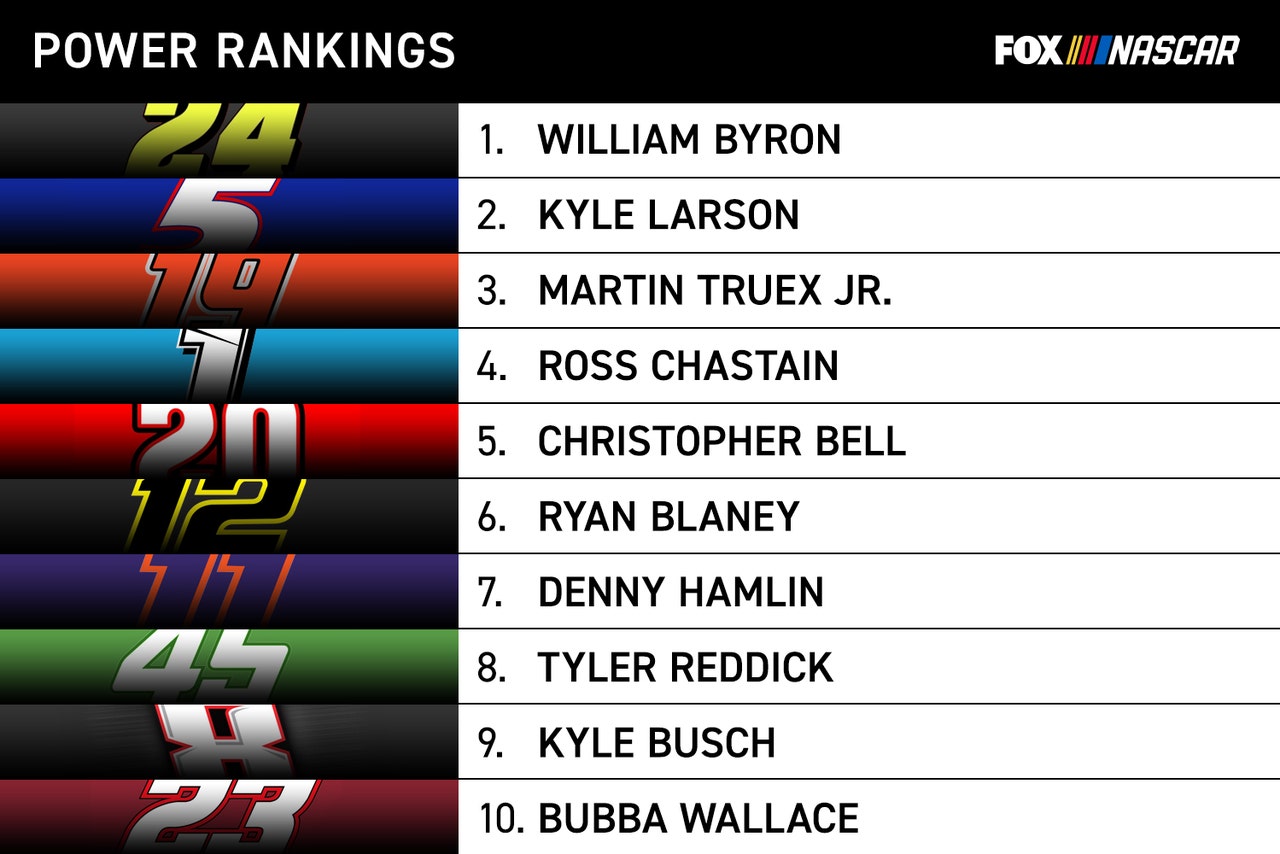 They Said It
"Knowing the race team mentality, they don't do things that would not be a benefit to them in some way, shape or form for a performance advantage." —NASCAR Senior Vice President of Competition Elton Sawyer on the Chase Briscoe penalty
Bob Pockrass covers NASCAR for FOX Sports. He has spent decades covering motorsports, including the past 30 Daytona 500s, with stints at ESPN, Sporting News, NASCAR Scene magazine and The (Daytona Beach) News-Journal. Follow him on Twitter @bobpockrass, and sign up for the FOX Sports NASCAR Newsletter with Bob Pockrass.
Top NASCAR stories from FOX Sports:
FOLLOW
Follow your favorites to personalize your FOX Sports experience