For Kyle Larson, preparations underway for 'nerve-racking' 2024 Indy 500 run
---
Kyle Larson watched drivers practice for the Indianapolis 500 last week and saw them eclipse 240 mph on the Indianapolis Motor Speedway straightaways.
A thought entered Larson's mind.
"They're crazy," Larson said.
He paused.
Looking for more NASCAR content? Sign up for the FOX Sports NASCAR Newsletter with Bob Pockrass!
"I guess I'll be crazy, too," he said.
Larson has another year before what is expected to be a chaotic month of May where he competes in both the Indianapolis 500 and the Coca-Cola 600 on the same day. He will drive for Arrow McLaren through a partnership with Hendrick Motorsports.
The 2021 Cup champion, who has two Cup points-race wins this year and is coming off the all-star victory Sunday night, doesn't seem to be sweating over the preparation for his IndyCar Series debut.
"It's still so far away that it truly doesn't seem real. Until I get in the car on the ground and fire an engine up — then I think I'm going to be scared," said Larson, who still doesn't know when he will start testing.
"But right now it doesn't seem super real. I've been trying to pay attention as much as possible."
Granted, it's a year away. But more than that, Larson just doesn't know what to worry about just yet. He learned just the basics during his one day at Indianapolis.
HMS vice chairman and four-time Cup champion Jeff Gordon joined Larson as they started learning how the McLaren team operates.
"I sure as heck right now don't want to drive into turn one at 238 miles [an hour or] whatever they're running," Gordon said. "But Kyle does. Kyle is capable of it."
Larson eyes 2024 double
Kyle Larson is already looking ahead about how to balance the 2024 NASCAR All-Star Race and Indianapolis 500 qualifying.
No driver since Kurt Busch in 2014 has done the double. Busch finished sixth in the 500 and then dropped out early with a blown engine in the 600.
Other drivers have wanted to do both but could not get all the approvals they needed. Kyle Busch had sponsorship for the 2017 race but his Cup owner Joe Gibbs wouldn't let him do it. Although Busch has had permission the past few years and now has it at Richard Childress Racing, another chance never materialized.
Kyle Busch was hopeful to get the McLaren ride through Chevrolet but now that Larson has a two-year deal, Busch seems resigned that he won't get to run the Indy 500.
"Unfortunately, I think Larson got the ride that I was slated to get," Kyle Busch said. "He's got that locked up for two years.
"I don't know if it will ever happen. … I'm not going to be making calls and pushing for it. If someone calls me and says that they're ready to go and it all lines up right, so be it and we'll go do it."
When Larson does it next year, it will be a day when one of the best race-car drivers in the world captures the attention of race fans around the world.
Larson has made a name for himself for being able to adapt quickly in finding the best line and technique to maximize speed. He doesn't have intricate knowledge of race cars as much as the feel to go fast and how much out-of-control he can handle in a race car without wrecking.
What makes Larson special?
The Race Hub crew discusses Kyle Larson winning the 2023 NASCAR All-Star Race and what makes him such a special driver.
An IndyCar will challenge that ability because once that vehicle snaps loose, there is little chance of straightening it before hitting a wall.
Larson didn't get a chance to talk to the team's drivers much because they spent most of the time in the cars during the day.
"I didn't get much out of listening on the radio," Larson said. "I also don't know anything about a race car, either. So when they're naming off changes that they're making, I can't process that.
"I went to the spotter stand and see how runs form, lines, where people downshift in the corners."
A typically quiet person, Larson said he hasn't started asking lots of questions.
"I don't want to pick people's brains yet," Larson said. "I don't even know when I'm getting in the car.
"So once it gets closer to that, I know that I'm going to have the support of all of them and anybody else who has experience. … I don't want to overstep my boundaries before getting into the car."
Larson admitted that he hopes his team will let him use lingo that he is used to in stock cars and sprint cars rather than some of the typical descriptions of how an open-wheel car handles.
Beyond how the car handles and lingo, Larson said he has been trained to focus on lap times while the drivers at Indy talk more in miles per hour.
"I would like to see more lap time stuff when I get in," Larson said. "It's definitely different. The drivers are from different countries.
"I look forward to it. Putting yourself in different situations or different environments is great and it helps you grow as a driver, as a person, as everything. I really look forward to the opportunity. … It's going to be such a cool experience."
Larson wins at North Wilkesboro
Check out the final laps of the NASCAR All-Star race at North Wilkesboro Speedway as Kyle Larson runs away with the victory.
Larson said he is so new to the IndyCar world that he even was amazed at how many of the drivers stay at motorhomes at the track even if they live in the area.
"I'll worry more about the driving and what that takes once it gets closer to me actually driving," Larson said. "But trying to figure out where I'm sleeping is more important."
Maybe there's a reason for that.
"I was watching qualifying [Saturday] before the truck race, and I'm like, 'Holy s— they're going 242 into Turn 1,'" Larson said. "I'm like, 'Damn, that's crazy.' … It doesn't look as sketchy for them [at McLaren].
"It's going to be fun. Once I get in it, it will be less nerve-racking."
What To Watch For
Last year, the 600-mile race at Charlotte Motor Speedway featured several drivers spinning out on their own and was primarily a race of attrition and battling back from adversity.
Remember Kyle Larson? He had to come from the back a few times, including from hitting the wall and having a small fire in his pit. He nearly won before a late-race tussle with Austin Dillon.
This was the last race at an intermediate track before a change in the tire construction was introduced at Pocono to better handle the loads of the Next Gen car.
If they don't wreck, expect this year's Coca-Cola 600 (6 p.m. ET on FOX) to be another intermediate-track type of race with the Hendrick, Trackhouse and the Toyota cars out front.
Thinking Out Loud
Should North Wilkesboro Speedway have another all-star race or points event next year?
I say an all-star race.
North Wilkesboro here to stay?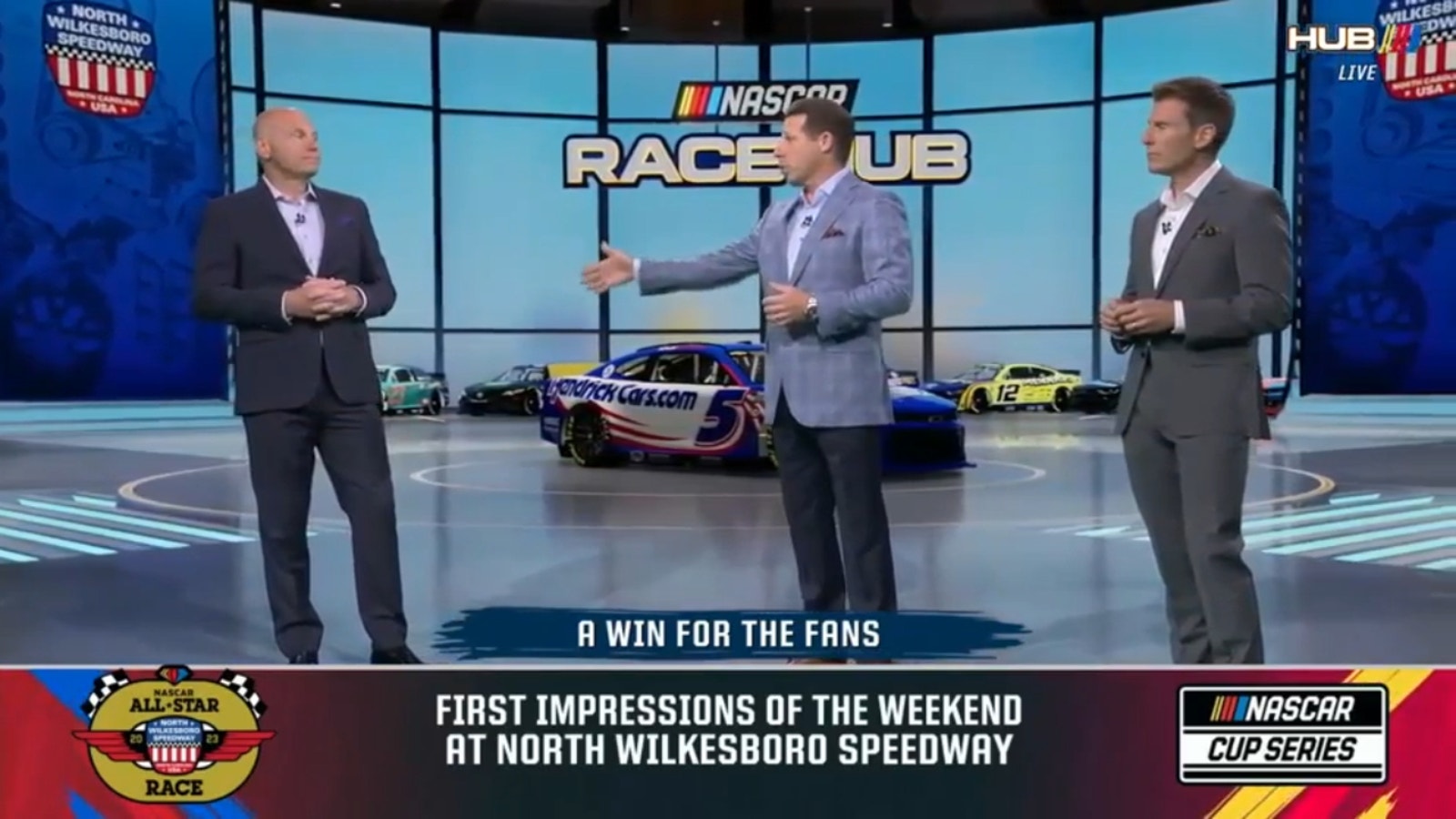 The NASCAR Race Hub crew discusses All-Star weekend at North Wilkesboro and if they should keep it there long term.
Repave it and make sure that the new surface can put on a good 200-lap show. And then let it age for a year before trying to go 400 laps.
The biggest mistake would be repaving and then going 400 laps in the first race of the new pavement. Races on new pavement often tend to be single-file affairs, and the first points race can't be a dud.
Weekly Power Rankings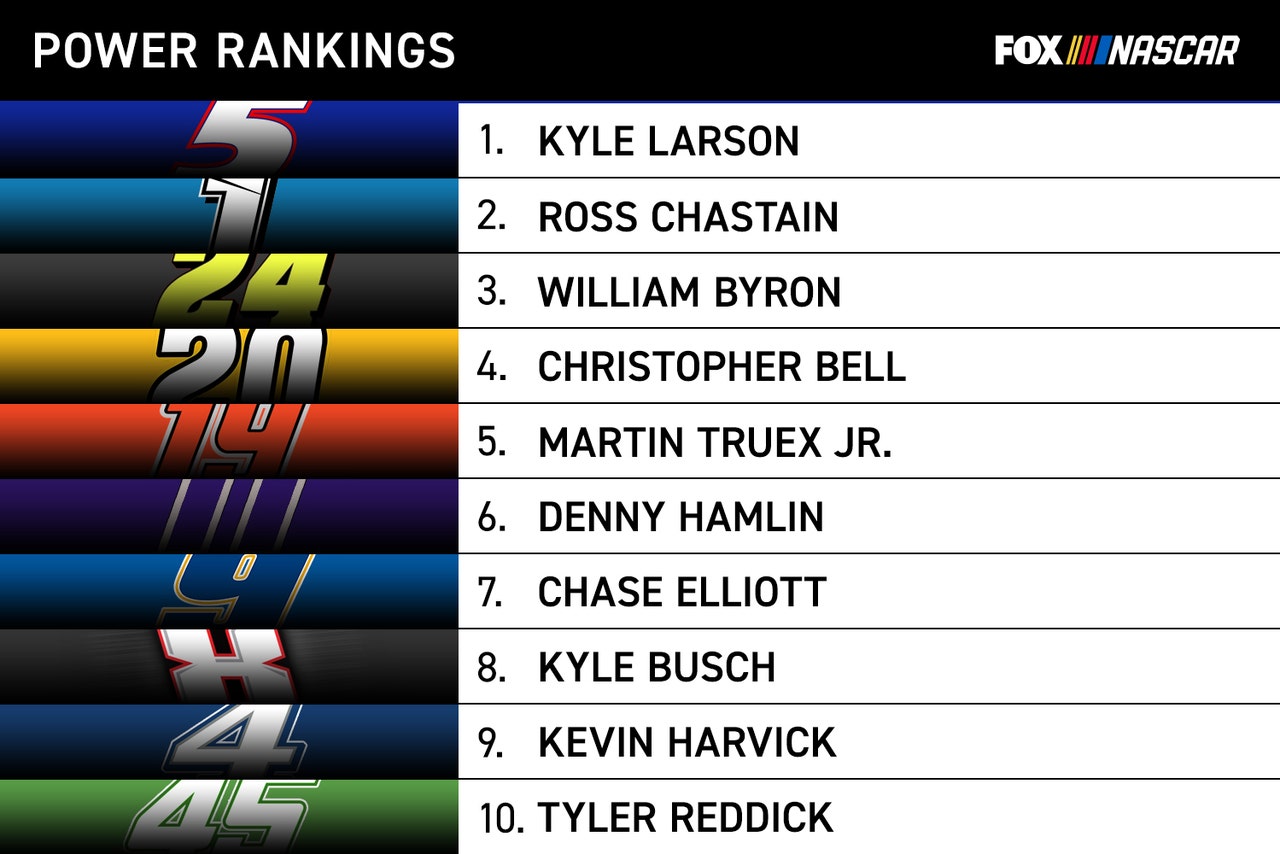 They Said It
"Not speaking to next year specifically, I do think that there's definitely a place in the NASCAR world for North Wilkesboro Speedway, and whether it's a special event like All-Star, maybe one day it's a points event, I don't know." —North Wilkesboro Speedway owner Marcus Smith on the future of the famed racetrack
Bob Pockrass covers NASCAR for FOX Sports. He has spent decades covering motorsports, including the past 30 Daytona 500s, with stints at ESPN, Sporting News, NASCAR Scene magazine and The (Daytona Beach) News-Journal. Follow him on Twitter @bobpockrass, and sign up for the FOX Sports NASCAR Newsletter with Bob Pockrass.
Top NASCAR stories from FOX Sports:
FOLLOW
Follow your favorites to personalize your FOX Sports experience