NASCAR race at North Wilkesboro Speedway provides unique experience for drivers
---
NORTH WILKESBORO, N.C. — Conducting the NASCAR All-Star Race at the historic North Wilkesboro Speedway is meant to connect NASCAR to its roots.
Some Cup drivers took it a step further earlier this week as they competed at the 0.625-mile oval in regional series racing at the track.
The CARS Tour, based mostly in the southeast, and the ASA Tour, mostly in the midwest and southeast, sanctioned races at the track in what turned into a triple-header Wednesday after rain washed out the ASA event Tuesday.
Nine Cup drivers took the opportunity to get a jump on their all-star competition by competing in the events in various types of late-model race cars.
The drivers who competed hoped to learn something ahead of this weekend. Do they now know how the Cup cars will race?
"I have no idea," said William Byron, who finished second in the ASA super late-model race. "It's going to be hard to pass, like anywhere. It's going to be all about hunting the bottom and just trying to get your car to work down there and have good grip on the exit, too.
"It will be fun. I'm excited. It's going to be an awesome show."
Even drivers who didn't have good races felt it was productive.
"There's a lot of small nuances and even though I was going backwards, I was learning," said Ross Chastain, the Cup Series points leader who finished 19th in a late model stock race. "I can't race enough cars and get enough laps on a track that is new to me."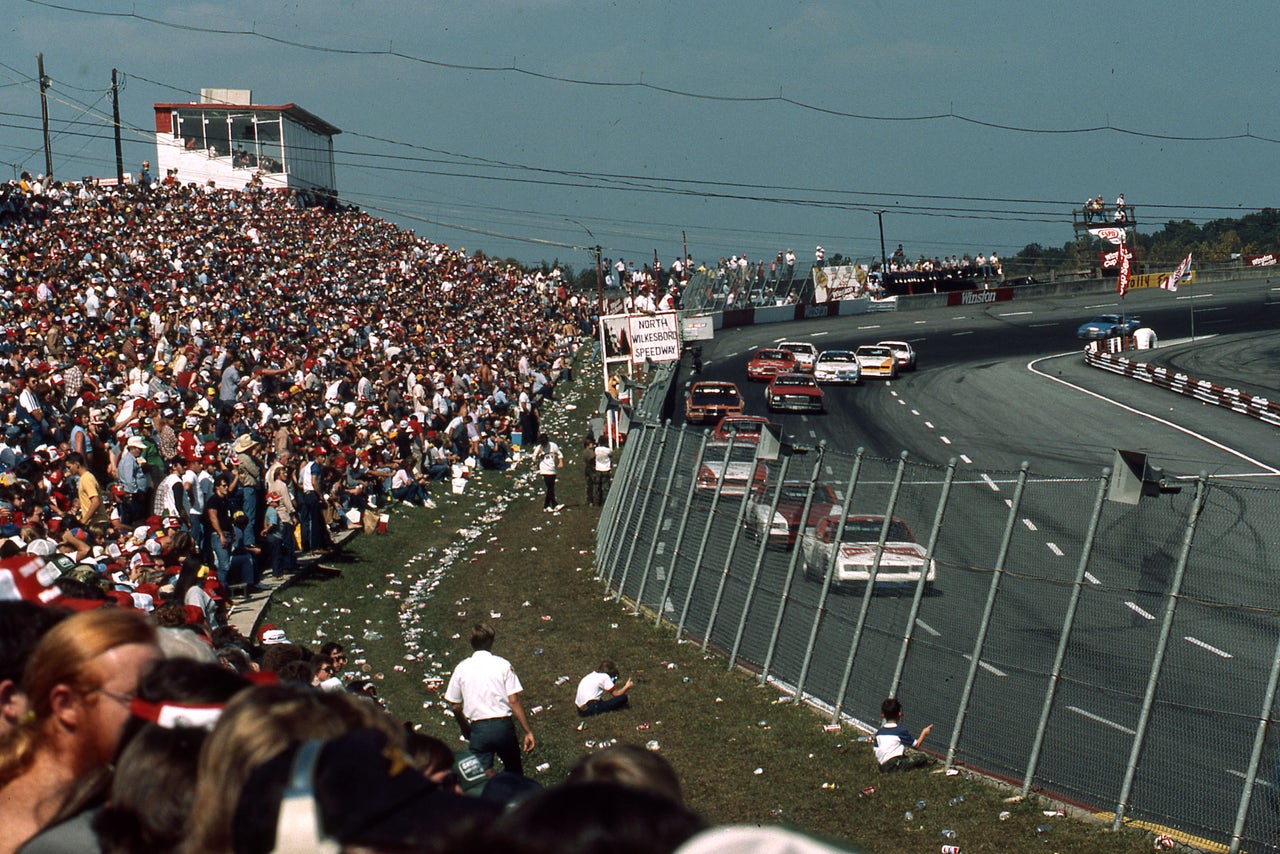 NORTH WILKESBORO, NC – OCTOBER 14, 1984: Darrell Waltrip (No. 11) leads the field during the running of the Holly Farms 400 NASCAR Cup race at North Wilkesboro Speedway. (Photo by ISC Images & Archives via Getty Images)
Drivers got their first taste of a worn surface — it has not been repaved since 1981. There was grass coming up through the surface a couple of years ago before it was cleaned up.
It is no surprise to them that they won't have a pristine surface for this event.
"It's definitely beat up," said 2020 Cup champion Chase Elliott., who finished third in the late model stock race. "A lot of the sealer has come up off the track and things and those cars are a lot heavier.
"You'll know the racetrack. But there is so much more to it than just worrying about something to try to make the Cup car fast because it is so different. This is really about learning and seeing the competitors and being a competitor and learning the process of everything that goes with it."
The cars that these drivers raced earlier in the week weigh about 2,700 pounds, compared to the 3,500-pound Cup cars.
"The late models are quite softer car than the Cup car and you can feel the bumps quite a bit," Suarez said. "I feel like with the Cup car, we are going to feel every single imperfection of the racetrack, which there is quite a bit of them.
"I'm looking forward to the challenge. It's going to be tough. It's going to be a handful. We'll have to be smart, not just fast — which is something that we don't do every weekend."
Why didn't track operators repave before this race? After a CARS Tour race at the track in August, NASCAR Hall of Fame driver Dale Earnhardt Jr. was able to convince Speedway Motorsports and NASCAR brass that a repave wasn't necessary. When a track is repaved, it often takes a few years to start getting some character — and repaves often don't offer the best of racing.
So what drivers — and track workers — could face this weekend is a track that could need some patchwork or additional sealer. The patches take about eight minutes to cure and be ready for racing.
"It adds to the challenge," Suarez said. "If this was a points race, I would say, 'Man, it's going to be tough. There's going to be more on the line.'
"In the all-star race, there is more forgiveness. Every single driver is going to have the same conditions."
Chastain couldn't figure out a way to describe it for reporters.
"I would not use words that are very nice to describe it, but it was fun," Chastain said. "It's rough. It's bumpy. The apron is off-camber and slick. … I could see asphalt coming up during the race, and they'll patch that.