NASCAR takeaways: Denny Hamlin calls for Chase Elliott suspension over 'tantrum'
---
CONCORD, N.C. — Ryan Blaney snapped a 59-race winless streak by winning one of NASCAR's biggest events, the Coca-Cola 600 marathon at Charlotte Motor Speedway.
The race, rescheduled to Monday because of rain Sunday, was a wild affair with 16 cautions. Blaney led seven times for 163 laps, including the final 26.
"I might shed a tear," Blaney said after getting out of his car.
It marked the first time that Team Penske swept the Indianapolis 500 (with Josef Newgarden) and the Coca-Cola 600 on the same weekend. Penske has won 19 times in the Indy 500, while Blaney's victory was the organization's third win in the 600.
Blaney, who won the NASCAR All-Star Race last year but had not won a points race since the August 2021 race at Daytona, was victorious by more than a half-second over William Byron. Martin Truex Jr. finished third, Bubba Wallace was fourth and Tyler Reddick finished fifth.
"You start to get to feel like you can't win anymore when you don't win in a while," Blaney said. "It kind of gets hard. So just super thankful to the 12 guys for believing in me. Thank you guys for sticking around. Really appreciate it."
Takeaways from a race that took nearly five hours to complete, not including a 30-minute red flag for a short rain shower.
Elliott Could Face Repercussions
A NASCAR spokesperson said the sanctioning body will look into Chase Elliott's wrecking of Denny Hamlin on Lap 185 to determine whether to administer additional punishment.
Hamlin said Elliott should be suspended for intentionally wrecking him. Hamlin squeezed Elliott into the wall as they battled for position, and Elliott appeared to turn left into the rear of Hamlin's car.
Elliott facing ban?
Breaking down if NASCAR will suspend Chase Elliott after wrecking Denny Hamlin at Charlotte.
NASCAR suspended 23XI Racing driver Bubba Wallace last year for one race after retaliating against Kyle Larson, hitting him in the right rear at high speed at Las Vegas. Hamlin owns 23XI Racing and at the time said he supported the one-race suspension to Wallace.
"It's a tantrum and he shouldn't be racing next week," Hamlin said of Elliott. "Right-rear hooks are absolutely unacceptable. … It is the same thing that Bubba Wallace did with Kyle Larson. Exact same. He shouldn't be racing. It's a tantrum."
Elliott said he couldn't control his car after it was damaged from hitting the wall.
"Once you hit the wall in these things, you can't drive them anymore," he said when asked if his move was retaliation. "So no, just unfortunate circumstances."
Hamlin was tweeting data from Elliott's car to support his view that Elliott should be suspended.
Almirola Shoves Wallace
Aric Almirola shoved Bubba Wallace after a brief exchange during the rain delay.
"I felt like I was running him pretty clean and I felt like he was racing me really dirty, and I let him go—– and then he shot me the bird," Almirola said. "So I just went to go ask him why he shot me the bird and he started mouthing off and cussing at me.
"And I just told him I wasn't going to have that."
Wallace said he was cussing at Almirola.
"Just passionate — we're racing hard for the second stage and we finished fourth [in the race], so it was a good day," Wallace said.
Wallace added he wasn't surprised at Almirola's reaction.
"When you walk around with two faces, that's what you get," Wallace said.
Bowman Sore
Alex Bowman had a pretty simple response when asked how he felt after the 600-mile race.
"Like I broke my back a month ago," Bowman said.
Coca-Cola 600 highlights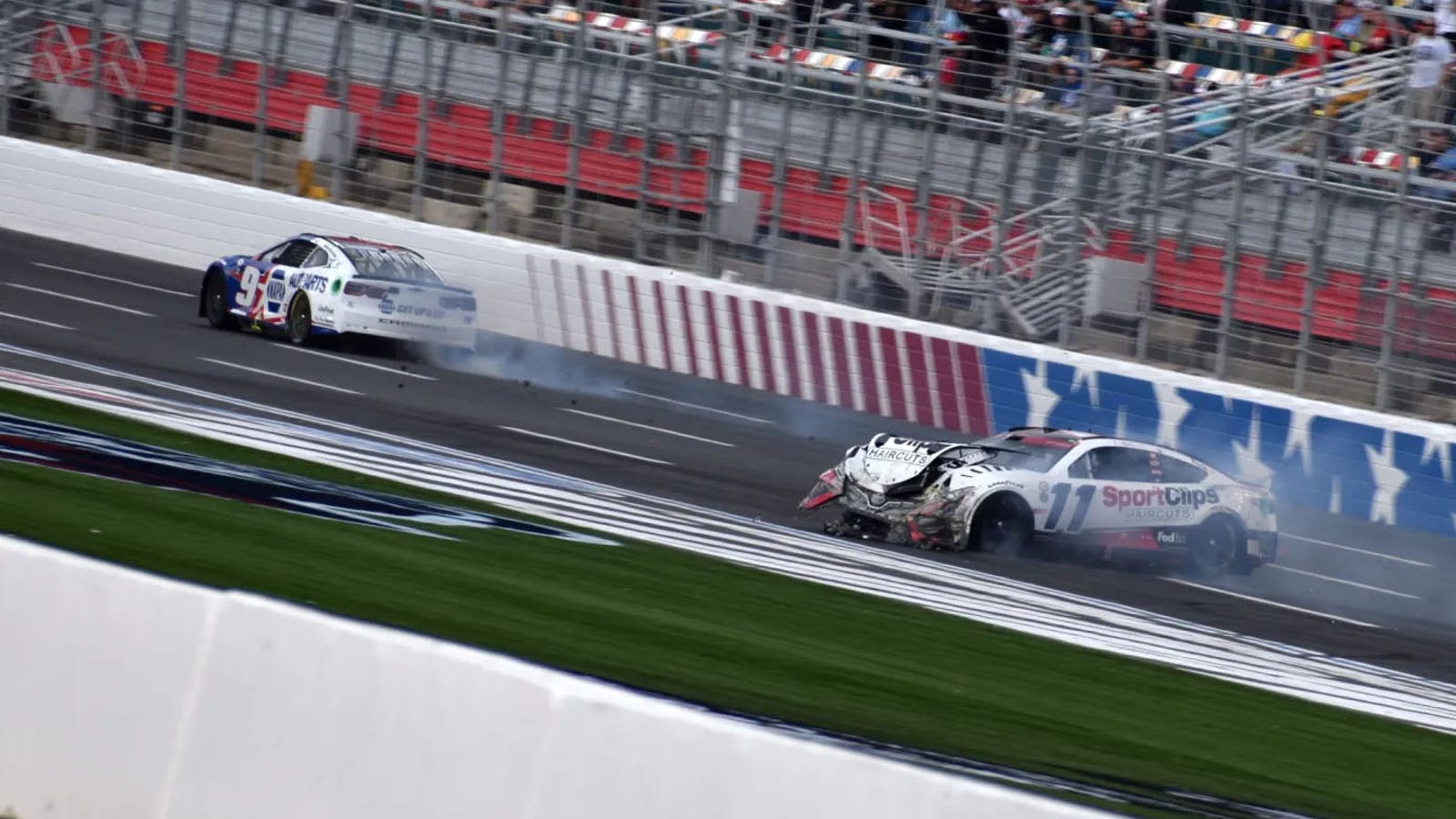 The Coca-Cola 600 at Charlotte Motor Speedway lived up to the hype, with Ryan Blaney earning his first win since August 2021 at Daytona.
Bowman was competing for the first time in five weeks since breaking his T-3 vertebra in a sprint car accident in April. He finished 12th.
"I'm really [expletive] sore," Bowman said. "It hurts. It's pretty much what I expected. I'm glad that I was fitness-wise OK in the car.
"You can't train with the type of injury I had until two weeks ago."
Bob Pockrass covers NASCAR for FOX Sports. He has spent decades covering motorsports, including the past 30 Daytona 500s, with stints at ESPN, Sporting News, NASCAR Scene magazine and The (Daytona Beach) News-Journal. Follow him on Twitter @bobpockrass, and sign up for the FOX Sports NASCAR Newsletter with Bob Pockrass.
Top NASCAR stories from FOX Sports:
FOLLOW
Follow your favorites to personalize your FOX Sports experience