Ranking all-time best drivers from Virginia ahead of Richmond race
---
The NASCAR Cup Series is set for its Virginia swing, first at Richmond, then Bristol (across the border from Virginia in Tennessee), followed by Martinsville.
That's two races in the state and one within a stone's throw away.
Virginia has a rich history in racing, but there are fewer current full-time Cup drivers from the state than there are Cup races there.
There's only one Cup driver who calls Virginia his home state: Denny Hamlin.
Looking for more NASCAR content? Sign up for the FOX Sports NASCAR Newsletter with Bob Pockrass!
And it isn't like there is a huge group following the Chesterfield native. Jeb Burton and Ryan Ellis are the only drivers with Virginia roots who race regularly in the Xfinity Series.
"The sport's changed for sure," Hamlin said. "You've got so many different people from diverse backgrounds and stuff like that.
"What we're doing as a sport, we're growing our fan base. Everyone is just getting more and more diverse and so hopefully that continues to build our sport."
With tracks closing throughout the southeast over the past decade, that is a common theme when discussing why there aren't more drivers from Virginia.
"I don't have an educated answer about that," said former Cup driver Jeff Burton, who is from South Boston. "I think it's more timing than anything else.
"I do know there's several racetracks that shut down in Virginia. So there's that much less opportunity to cut your teeth and figure out how to do it, which is a problem for short-track racing in general. That does limit the opportunities."
Hamlin is a strong representative for Virginia and at 48 Cup wins, could he be considered the best driver ever from Virginia?
"There's really heavy-duty names on that list," Hamlin said. "There's been a lot of drivers from Virginia come through this sport for sure.
"I'm still trying to just build up the stat column to make sure that when I'm done, I'm at least part of the argument."
If I were ranking drivers from Virginia, this would be my top 10:
1. Curtis Turner: Turner had 17 Cup wins, including one for the Wood Brothers, and he's one of the reasons NASCAR became a popular sport. Fans went to watch him. Turner also had 38 wins in the NASCAR convertible division. Turner was inducted into the NASCAR Hall of Fame in 2016.
2. Denny Hamlin: Hamlin has 48 Cup wins. The only thing missing is a championship. You could easily make an argument he should be atop this list and will be atop this list when his career comes to a close.
3. Joe Weatherly: Weatherly has 25 wins and two Cup championships. He also had 12 convertible wins and 101 modified wins. He was inducted into the NASCAR Hall of Fame in 2015.
4. Ricky Rudd: Rudd has 23 Cup wins to his credit and held the streak for consecutive starts at 788 until Jeff Gordon broke it in 2015.
5. Jeff Burton: Burton has 21 Cup wins and 27 Xfinity wins in a career that saw him race for some of the biggest names in the sport.
6. Ray Hendrick: A modified great who challenged the Cup drivers when he would go race them, Hendrick also had a strong fan following in Virginia. According to the NASCAR Hall of Fame, Hendrick won more than 700 races in his career.
7. Tommy Ellis: The winner of 22 Xfinity races and the 1988 series title, Ellis was an accomplished racer on the Virginia short tracks. He also was the 1981 sportsman division champion.
8. Ward Burton: Burton had five Cup wins, but he captured two of the biggest — the Daytona 500 and the Southern 500.
9. Wendell Scott: Scott won one Cup race but few doubted his talent and certainly no one doubted his grit as the only Black driver on the circuit in the 1960s and 1970s. He had more than 100 wins at local tracks, with many coming in Virginia. Scott was elected into the NASCAR Hall of Fame in 2015.
10. Philip Morris: Morris won five NASCAR national championships based on the points system for drivers at local tracks.
Some drivers-turned-owners with Virginia roots who made the sport what it is today: Glen Wood and Rick Hendrick. Wood was a more accomplished driver than Hendrick.
Their impact on the sport is truly immeasurable. The Wood Brothers team had some of the greatest drivers in its cars. Hendrick has shown the garage how to build a successful multi-car organization that can sustain performance year after year.
What To Watch For
The Cup races last year at Richmond often were decided, in part, by tire strategy and whether a driver would pit once or twice during the long second and third stages. It provided dramatic moments, such as Denny Hamlin catching William Byron near the end of the spring race and then Christopher Bell needing just a couple more laps than he had in the summer as Kevin Harvick held off his charge.
This will be the second race of the reduced downforce aerodynamic package for road courses. Will the Chevrolets have the advantage they appeared to have at Phoenix? And will the Fords be behind?
Thinking Out Loud
After Circuit of the Americas, there has been some chatter on whether NASCAR should go to single-file restarts because of the tight first turn.
There is precedence in the rain and at Bristol dirt where NASCAR went to single-file restarts as a safety measure.
EchoPark Automotive Grand Prix highlights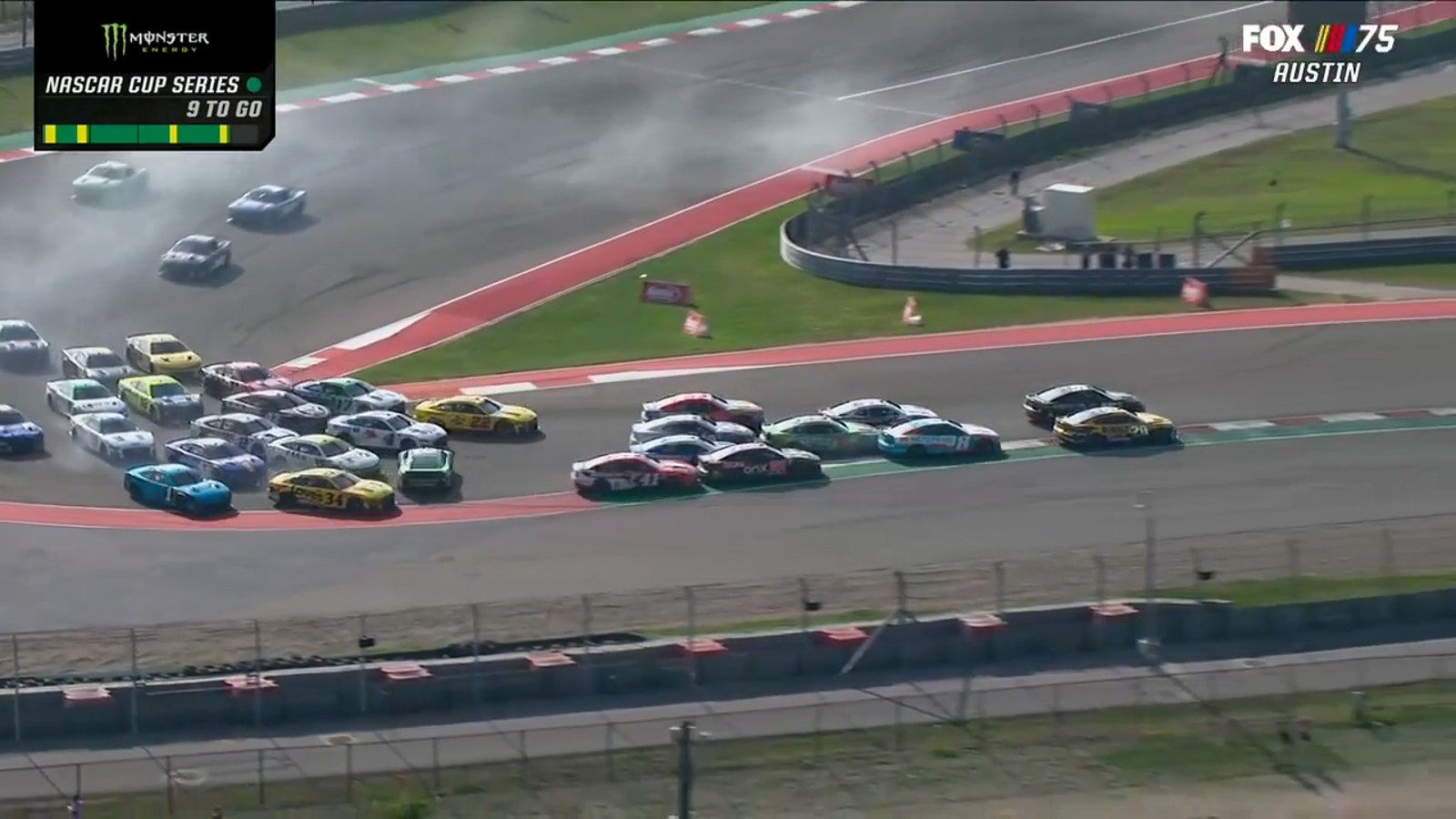 Tyler Reddick captured the checkered flag in overtime at COTA, earning his fourth career Cup Series win.
It could be argued this would also be a safety measure because of the propensity of drivers to crash, as the three overtimes in the Cup race proved.
But the drivers hold the steering wheel. They work the brake. They work the accelerator. They have control, kind of at least, of whether they wreck or not.
They have no control over water spray in the rain or dust on the dirt. So going to single-file there makes sense. It doesn't seem to make as much sense for NASCAR to throw up its arms and admit that these drivers just can't race without crashing each other late in the race.
If that's the case, then superspeedway races also should have single-file restarts at the end of those events.
Weekly Power Rankings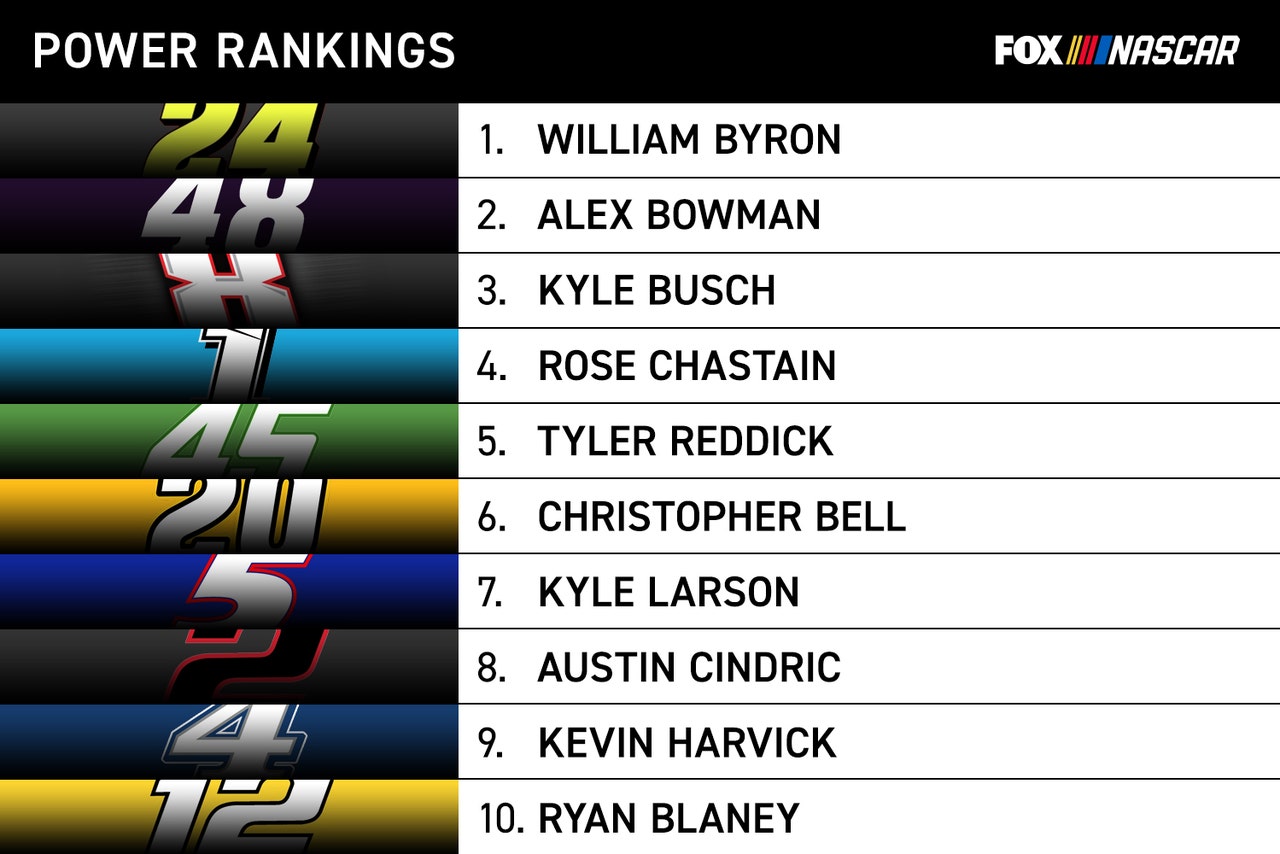 They Said It
"Today's outcome reflects the facts, and we're pleased the panel did the right thing by overturning the points penalty." —Rick Hendrick after an appeals panel rescinded the points penalties to his drivers and teams
Bob Pockrass covers NASCAR for FOX Sports. He has spent decades covering motorsports, including the past 30 Daytona 500s, with stints at ESPN, Sporting News, NASCAR Scene magazine and The (Daytona Beach) News-Journal. Follow him on Twitter @bobpockrass, and sign up for the FOX Sports NASCAR Newsletter with Bob Pockrass.
Top NASCAR stories from FOX Sports:
FOLLOW
Follow your favorites to personalize your FOX Sports experience
---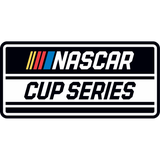 Get more from NASCAR Cup Series Follow your favorites to get information about games, news and more
---